Emblem & Logo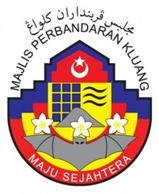 Emblem & Logo
EMBLEM and LOGO Designs are based on the historical factors, objectives, functions and the Kluang Municipal Council's source. Emblem And Logo are designed graphically by combining a few important elements.
Shield 
Shield is a symbol of mental strength and Kluang Municipal Council's resilience in preparing to face challenges and current changes. The Shield also symbolizes Kluang Municipal Council's continuous struggle and service in keeping up with the ever-changing times.
Form "U"
U form is a magnet. Its natural character in attracting metal mass is the Council's symbol of strength to bring development and modernization elements which will encourage the Kluang's district economy. U magnets forming the three overlapping reflect the Kluang's Municipal Council strength and financial stability.
Scroll
The words "Majlis Perbandaran Kluang" written on a 'Scroll' represent a temperament and written declaration. The large 'Scroll' at the top of the emblem with jawi writing represents race dignity and official religion.
King's Crown
The Royal Crown represents obedience, council's loyalty to the country's 'Principles Ruler's' sovereignty and principle. The Royal Crown also symbolizes Kluang Municipal Council as municipal auspices under a sovereign state, Johor Darul Ta'zim.
Yellow 
Represents greatness and king's sovereignty that rules and appoints Johor as a sovereign state. It also symbolizes the Kluang Municipal Council's continuous pursuant spirit in handling tasks towards achieving the Kluang Municipal Council's objectives.
Blue
Represents nation's unity, solidarity, and nobility of heart as well as perseverance and seriousness of each Kluang Municipal Council's individual who is always prepared to provide the best services to the society.
Red
Symbolizes bravery, strength and firmness of Kluang Municipal Council in pursuing administration.